Declutter Your Home Without Making a Mess
A Simple Trick to Declutter Your Home!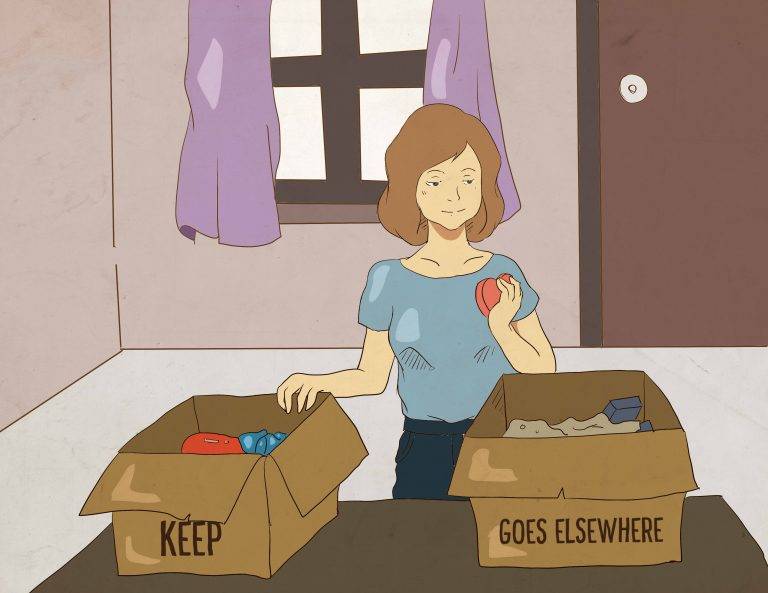 Before you can properly clean anything in your home, you have to clear out the clutter. So before you start to declutter your home, there are two general decluttering tips to keep in mind before you start.
Be willing to throw things away. So much of our clutter are items that we really don't need, like magazines, catalogs, boxes from Amazon, etc. Just toss it.
Don't get bogged down in organizing every item you come across. The goal is to get your home to the point where you can properly clean.
So to get started, each room or area of the house needs a box dedicated to items you're going to keep that belong in the room. You can label it "KEEP". This box will stay in that room.
You will also have a box labeled "GOES ELSEWHERE" and a trash bag. You'll be taking the Goes Elsewhere box and trash bag with you from room to room. In each room you'll be adding items to the both boxes and the trash bag. Upon entering a new room, you'll take items out of the Goes Elsewhere Box and add them to that room's Keep Box.
'When you've finished the last room you'll need to walk back through each room to empty your Goes Elsewhere that you've collected in rooms decluttered subsequently.
Why declutter your home this way? Well if you are like most people, when cleaning up clutter you might just end up spreading it around. So this is just an quick and easy way to make sure you are organized and efficiently decluttering as you go. Also there are many health benefits to decluttering!
Cleaning Bedroom Clutter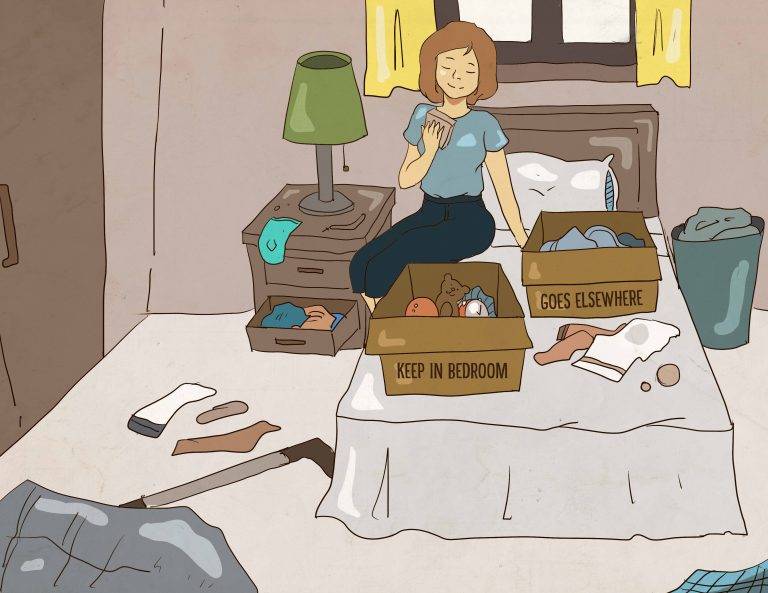 If you are going to declutter your home the first place to start is the bedroom. Why? Bedrooms can become an extra storage place in your homes. Excess clutter in your bedrooms can collect a lot of household dust, which brings along its own set of health issues, making it seem even more impossible to clean everything. So get your Keep and Goes Elsewhere Boxes and lets get started with some bedroom decluttering tips.
Floors
The goal here is to clear up space so you can easily vacuum. You want to make sure you aren't having to constantly move or maneuver around objects when vacuuming.
Get Everything Out The Way – Get larger movable objects, like chairs, out of the room or at least to the sides. Move smaller objects on top of desks, dressers, etc.
Put Items Into Appropriate Boxes! Start picking up items and putting them into your boxes accordingly.
Desks
The most important thing when decluttering your desk is to know what you need and organize it. If you have a paper shredder, manila folders, and some paper clips these will definitely help here.
Go through your paper piles putting the trash in the shredder, and put papers you need in your manila folders, paper clipping them as needed.
Separate your desk essentials from non-essentials. Go through them and put them into the appropriate boxes or trash. For items that need to stay on your desk, but don't want to move into a box, move them to the side and out of the way.
Closets & Dressers
When decluttering your clothes, the most important thing is to be able to find what you need when you need it. So here's some organization and decluttering tips to make that happen.
Go through your clothes and put any clothes you don't want on your bed. You can donate these or pass them down.
Pick a way to organize. Organize your clothes in a way that matches your lifestyle. Have a lot of workout clothes? Separate your workout tops from your regular ones. Check out this closet organization checklist for more info!
What to do with your miscellaneous items? These are things you wear on rare occasions, think of ugly Christmas sweaters, group them together and find a place for them.
Decluttering Tip: Don't fold big and bulky items, hang them instead.
Cleaning Kitchen Clutter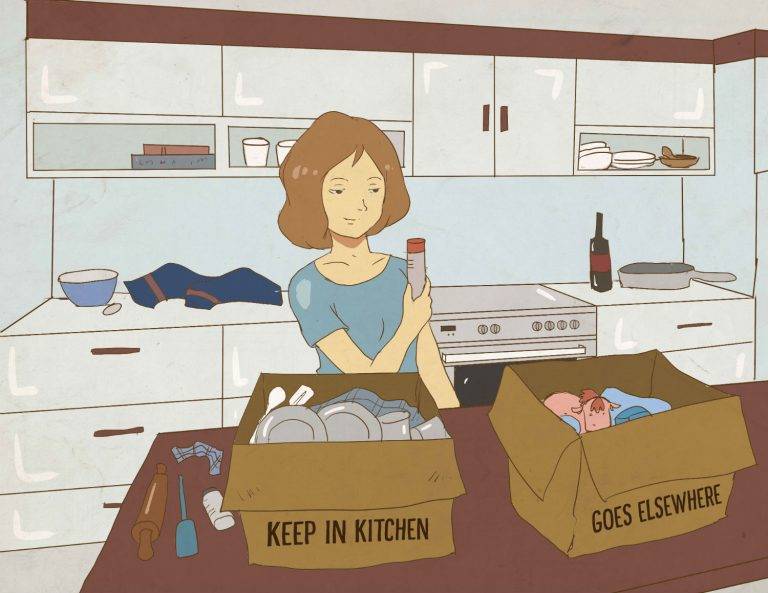 Now move onto your kitchen. Take anything in your Goes Elsewhere box that belongs in the kitchen, put it in the kitchen Keep box. Because your kitchen gets messiest the fastest and has many fragile items, keep in mind that less is better. This will make your kitchen much easier to clean! So be prepared to throw things out and re-locate kitchen items that are used very seldom.
Counters
The goal here is to move everything out the way, so you can clean your kitchen in one full sweep.
Move your kitchen appliances. Things such as blenders or toasters need to be moved inside cabinets, pushed to the side, on top of a chair, or even placed outside of your kitchen. When moving them, put them in the least dirty area of your kitchen. If you have fragile items, put them in a basket.
Create space for dirty dishes. If you have any dishes in your dish rack or washer, dry them and put them away.
Soak your dirty dishes. Fill your large dishes with soapy water, and let them soak, while you put your smaller dishes in the dishwasher.
Refrigerator & Pantry
Since your refrigerator and pantry get full and untidy really fast, what you want to focus on here is space efficiency. So when decluttering be honest with yourself with what you really need and what was just a "one-time use".
Finding extra space! Move things around & put them away correctly to create extra space. This will seem like a game of tetris at first, but once you get the hang of it you'll see the results.
Throw away snacks you don't need. We know this can be tough, so ask yourself the following 2 things: "do I even remember I had this", and "will it stay fresh?" If you answered no to either of these and you don't see yourself eating them in the next month or so, it's time to toss it.
Categorize & Prioritize! Group things together, and move them to the most visible and accessible places.
Cleaning Bathroom Clutter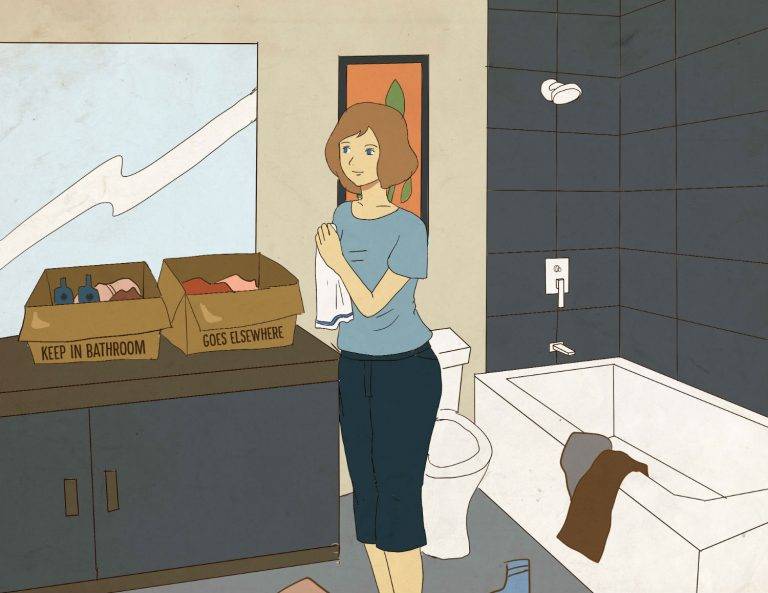 Now let's move onto the bathroom! Get your Goes Elsewhere box and put anything that belongs here in the bathroom Keep box. When clearing out clutter in your bathroom, keep in mind that it is filled items that we very rarely use or bought and forgot about them. So whatever you plan on keeping, it is important to have a place to put these items after you are done cleaning.
Floors
Make sure you bring your laundry basket and throw dirty clothes, towels, and rugs into it. You might want to shake them off outside before you throw them in the basket, getting rid of excess hair, lint, and dirt that collects on them, this is especially important for rugs. You'll be vacuuming the debris later.
Sink & Medicine Cabinet
Bathroom sink covered with makeup and toiletries? The key here is to be honest with yourself, since we buy so many products we only use once. If your bathroom is so full that you have no space, try some of these bathroom organizing ideas!
Clear off your bathroom counters. Get a small basket and put all the items on your counter in it. You can also store away excess items in bathroom drawers. Make it easy on yourself and try to sorting as you go.
Throw out what you don't need. Ask yourself the following "do I even remember I had this" and "will I be using this in the next month or so?" If you answered no to both, you can most likely throw it out. Also remember to check expiration dates!
Separate your essentials from non-essentials. Some items we only use on rare occasions, think of your nice perfumes or expensive hair products. Group these things together and find a place for them.
Cleaning Tip: Remember to check and clean the base of bottles on the kitchen sink! Things like soap bottles can leave a ring around them.
What About Family and Living Rooms?
Don't worry we didn't forget these! Treat these just like you did the bedroom by getting everything out of the way. The main difference is that you might have more larger immovable furniture, so it becomes more important to plan a way to vacuum with the least amount of interruptions.
Remember when you need to declutter your home, your goal is just to make sure that when you actually clean and dust, it will be as easy as possible.
Final Decluttering Tips
If you still have things left over in your Goes Elsewhere box, ask yourself this question, "What will this item be doing for me in a couple of months?" Chances are you probably won't be needing it, but if you can't find the heart to get rid of it, then make sure you have a space in your home to store it efficiently. After this you can throw away or donate what you have left!
Declutter Your Home This Year!
So since you've cleared out the clutter in your home, now you can get to actually cleaning it! We've got advice on how to clean almost any area of your home. Check out our professional cleaning tips in our Clean Like A Pro section. Need cleaning supplies? We have some great Microfiber Terry Cloths for dusting and cleaning any surface in your household. Give your friends and family a clean home this 2022!