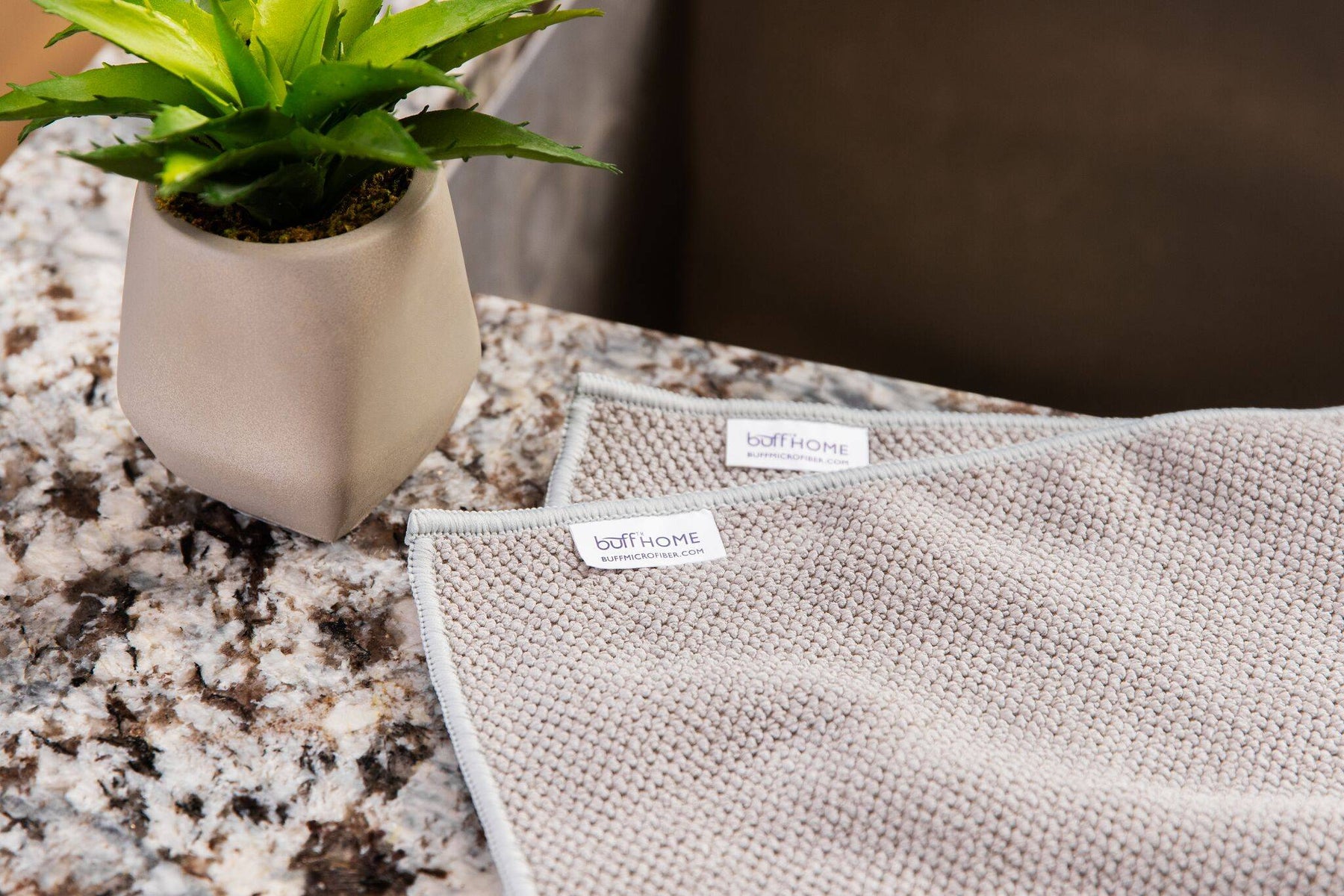 The Best Eco-Friendly Products to Use With Microfiber
Eco-friendly cleaners:
Baking soda

Distilled white vinegar

Hydrogen peroxide

Lemon

Castile Soap
Microfiber is the most effective when it comes to cleaning your home or office thoroughly. 
But as people become more concerned with conservation and stewardship of the environment, we often get asked which green or eco-friendly products to use with microfiber.
In this article, we'll be showing you the best eco-friendly cleaning products and recipes to use with microfiber for the best clean that doesn't harm the planet.
The Best Eco-friendly Cleaning Product: Water
It doesn't get any simpler or greener than just using water and microfiber to clean any surface. With just water, microfiber products can effectively take care of most of your household cleaning tasks.
How, you may ask?
Well, in case you don't remember from your science class, water is referred to as the universal solvent. This means that water dissolves more chemicals than any other solvent, which is also why things like food, dirt, and debris, such as dirty dishes soaking in the ktichen sink, all dissolve in water.
Water is also buoyant, meaning dirt and debris will be suspended within it.
Once water has done its job of pre-treating your surface, microfiber comes in and does the rest.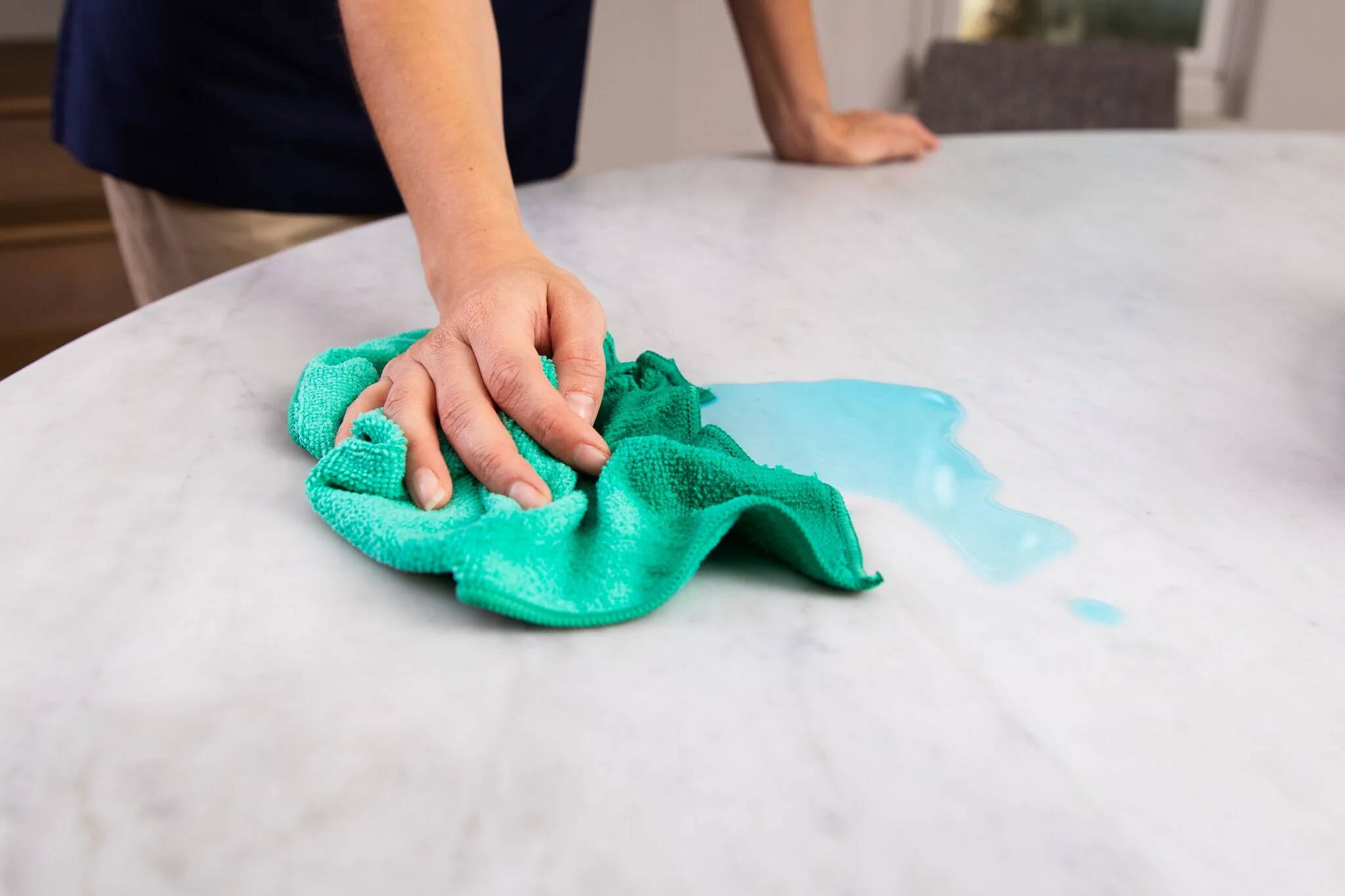 Microfiber is Superior
What makes microfiber so much better than other types of cloths?
More Fibers = More Cleaners
Microfiber is extremely small, 1/100th the diameter of a human hair to be exact. This means that there are millions of tiny fibers that work together to pick up dirt and absorb spills.
Removes Germs and Bacteria
Does cleaning with water and microfiber remove bacteria? Well, since microfiber is so tiny, they're small enough to remove most harmful germs and bacteria. This makes other tasks, such as picking up common household dust, an easy task.
Plus if you have a high quality towel, the microfiber will be split, which means it has even more space to trap bacteria in the fibers.
According to Infection Control Today, microfiber has been laboratory and clinically tested to remove bacteria and viruses with just water.
Please note that using microfiber and water is no substitute for disinfecting.
Acts as a Dust Magnet
Positively charged microfiber clings to dust and dirt, which have a natural negative charge.
More Absorbent Than Others
Microfiber has been tested to hold up to 7 times its weight in water, so you'll get more done with just one towel or mop pad. Microfiber is quite an incredible product, and works like no other.
5 benefits of cleaning with water and microfiber
1. Avoid spreading harmful chemicals in your home
Perhaps the best reason to clean with only a microfiber cloth and water is to avoid applying chemicals around your home. Cleaning agents have tons of chemicals in them, with warnings like "caution" or "hazardous" on the labels.
Using microfiber and water is a healthier way to clean, plus the eco-friendly benefit of less chemical pollutants in the air.
2. Remove more dirt than cotton cloths
Did you know microfiber and water can actually get you a cleaner finish than using cotton and cleaning agents. Unlike cotton fibers, which are larger and have a flat surface, microfibers are smaller and have a split surface.
This split surface makes microfiber a great scrubber, trapping the dirt within its fibers instead of smearing it around.
3. Polishing your stainless steel
Microfiber cloths used with warm water is a great way to shine your stainless steel appliances. Simply take a damp microfiber cloth and wipe away grime and smears. Once clean, you can take a dry microfiber cloth to buff the surface, and you're done.
Run your microfiber cloth in the direction of the stainless steel polish lines, this way you won't leave behind any marks from the minerals in the water as you clean.
4. Get a streak-free finish on glass
Here's an easy way to get streak free mirrors and windows, no Windex needed:
Dampen an

all-purpose microfiber cloth

with water.

Wipe over the glass. This will loosen and remove most of the gunk on your mirror.

Then use a

 

microfiber glass cloth

to dry and remove the remaining debris. This towel has a flat weave, which acts like a squeegee on your mirror preventing streaks from forming.
Cleaning mirrors with water and microfiber is a natural and healthy way to get the job done!
5. Save money and time
By cleaning with microfiber and water you'll spend less on cleaning agents. In fact, by choosing to clean with only with water, you can preserve your towels for much longer before you need to replace them.
Plus, using just microfiber and water to clean up around your home is easy. Instead of trying to find the right chemical cleaner and giving it proper dwelling time on your counters, just grab your microfiber cloth, run it under warm water, and quickly wipe down surfaces.
When you are using the amazing combination of microfiber cloths and water to clean, you'll be saving on both money and time.
With that being said, not all microfiber cloths are created equal. See our guide on what a high quality microfiber cloth is.
Stop applying dangerous chemicals in your home and rely on your trusty microfiber cloth to get any cleaning job done! See some of our best microfiber towels and mop pads.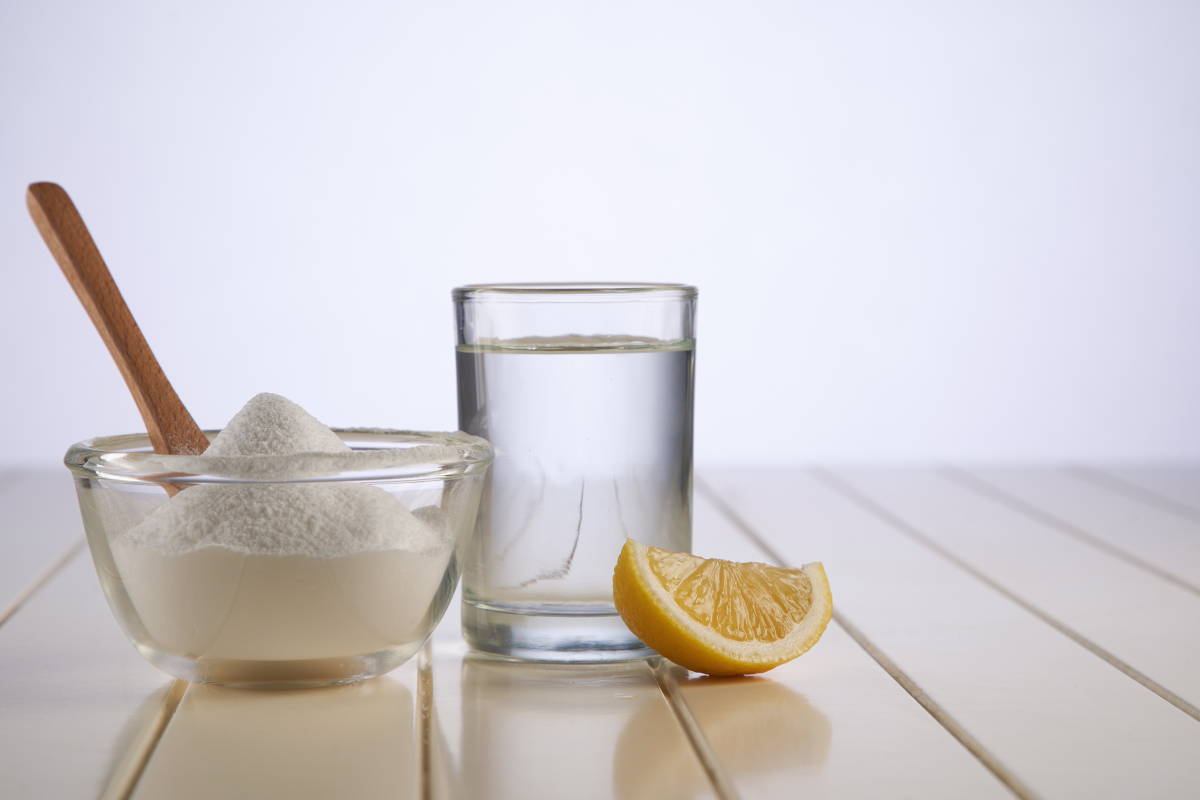 DIY Cleaning Solutions
Another simple yet popular detergent is the homemade cleaner. There are so many recipes out there using all natural products most of us already have in our pantries or refrigerators.
First, let's review which products work best on which messes.
Baking Soda
Baking Soda works on proteins, grease, pet accidents. It's a natural deodorizer and is mildly abrasive so it's great for scouring hard surfaces like pots and pans. However, avoid using it on glass or stainless steel because it can and will scratch surfaces
Distilled White Vinegar
Distilled White Vinegar is an acidic cleaner that works well on alkaline messes like hardwater spots, scale, and soap scum. It's also an excellent stain remover for coffee, tea, rust, and red wine! Avoid using it on natural stone or finished surfaces.
Hydrogen Peroxide
Hydrogen Peroxide is a turbo-charged water. It's just water with an extra oxygen molecule so it has the same oxidation properties of bleach without the damaging chemicals. It's a great disinfectant and safe to use to disinfect microfiber cloths.
Lemon
Lemon is an acidic cleaner with a fresh scent and it's own natural carrying case. Rubbing half a lemon on a surface with hard water stains (like faucets or glass shower doors) or stains in sinks, etc. is a great way to clean and leave a fresh scent. You can pop the other half in the fridge for 30 minutes to freshen that up and then toss both halves in the garbage disposal to clean and deodorize!
Castile Soap
Castile Soap is named after a region of origin in Spain. It is a plant, nut, or vegetable oil-base mixed with lye to create soap. It's biodegradable, vegan and does not contain any synthetic ingredients.
Check out some of our favorite recipes below and happy cleaning.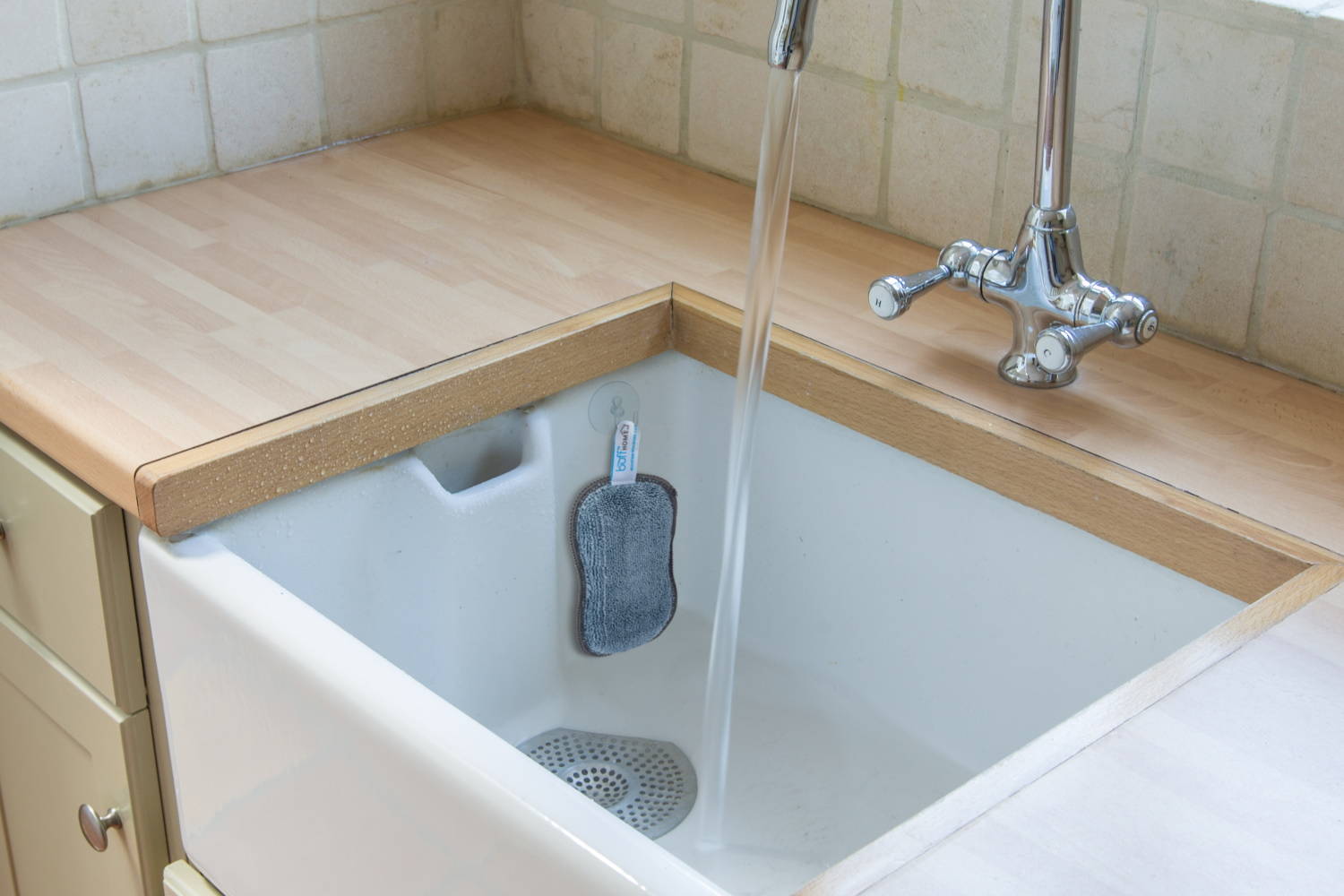 Scrubbing Paste
Ingredients Needed:
Baking Soda

Hydrogen Peroxide
Put a quarter to half a cup of baking soda into a small bowl, add the hydrogen peroxide a bit at a time and combine until a nice pasty consistency is formed. Rub the paste on the offending surface.
We love this for cleaning grout, porcelain sinks, grease stained baking dishes, hard water stains or film on plastic or silicone cooking utensils.
Degreaser Spray
Ingredients Needed:
2 cups water

2 Tbsp baking soda

2 tsp castile soap

1 tsp lemon juice
Combine the above in a spray bottle and use on any greasy mess you can find and let sit for about 5 minutes! Wipe clean with a damp microfiber cloth and dry and polish with a dry one. We love this for range and stove tops, ovens, microwaves, range hoods and kitchen counters.
All Purpose Cleaner
Ingredients Needed:
1 part water

1 part white vinegar

1 tsp lemon juice
Combine the above in a spray bottle for use on mild messes one non-porous surfaces. Avoid using this on wood or natural stone as the acidic ingredients can damage them and break down the finish.
Eco-friendly cleaning is a breeze
Cleaning your home has never been easier or more eco-friendly with the products and recipes we've given you in this article. It's just one way to become a more thoughtful human, while also keeping your home clean and healthy.